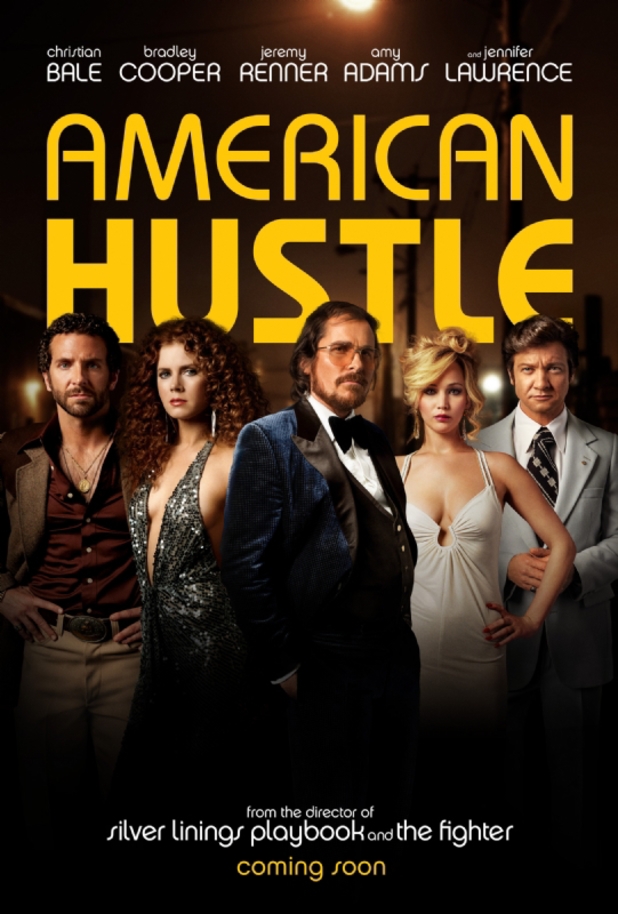 Spoiler alert: this breakdown divulges some of the plot.
American Hustle is a fun, if overly long, time at the movies. It uses all kinds of  narrative smoke and mirrors to tell its classically American tale, but ultimately it's a bit hollow inside.
To see how this film works, we have to begin by looking at its genres.  American Hustle is a crime caper done as a black comedy, with a number of advanced story techniques thrown in for good measure.  This is a great mix of genres, as the Coen brothers have shown over the years. The main problem here is that the writers don't want or don't know how to execute either genre the right way. So all kinds of potential is lost and we have a good movie, but not a great one.
A caper film, also known as a heist film, is one of the most plot heavy of
all genres. Not here. Yes, there is some complicated scamming going on, and some surprises at the payoff, as any self-respecting caper must have. But recognizable plot is missing from large portions of this film. Supposedly, co-writer and director David Russell has said he was interested in character, not plot. If so, he is making one of the biggest
mistakes in story, thinking you can separate these two sides of the narrative coin, and ends up limiting both character and plot.
Black comedy, along with satire, is the most advanced of comedy sub-genres (see my Comedy Class for the story beats of all the comedy genres, including black comedy). It is the comedy of illogic and destructive systems, and it can be a profound form. But, for many reasons, it is notoriously difficult to pull off. First, the characters are all trapped in a system, which can make them reactive and anti-dramatic. Second, you have to define the details of the system, which is the true opponent of the story, while maintaining narrative drive.
American Hustle feels like Goodfellas lite, and while it is funnier than Goodfellas, it loses the comparison in almost every other way. Like Goodfellas, Hustle uses the storyteller flashback structure, but does it incorrectly. This structure, when done properly, begins in the present, just after the biggest dramatic event of the story, typically the battle scene. The moment triggers a flashback where we return to some point in the past and see the events that led up to the dramatic event.
Again, not here. There is no obvious reason this event – the first time the leads try to entrap the mayor – should trigger a flashback. So there is no reason the past events should lead back to this moment. And while Goodfellas has a single narrator whose memory of the events will inform his character in some way, in Hustle we have three narrators, con man Irving, his girlfriend Sydney, and FBI agent Richie, who each remember how they came to be.
Playing with POV is one of the main features of advanced story, and is a standard technique in the novel. Its main advantage is that it shows how human beings are not all-knowing but in fact are quite narrow, deeply prejudiced and act with limited knowledge. And that is very appropriate for these three main characters, who are all con artists, including Richie, and are all to some degree incompetent.
But there is a big cost to changing point of view. Multiple POVs kill narrative drive, and that is especially dangerous in the film medium and the black comedy genre. Even though Goodfellas showed multiple characters trapped in a system, the single main character kept the narrative drive moving forward at a relentless pace. But by constantly shifting among three points of view, Hustle quickly bogs down into a narrative swamp.
The writers try to avoid this problem in the early part of the storyteller opening by focusing on the love that brings Irving and Sydney together. This love is designed to be the foundation of the entire film. But these people are so obviously incompetent and silly, their love is not believable. And since these people are con artists, we're never sure if even the love between them isn't a con as well.
Using this couple as the driving force of the film comes to an abrupt halt when FBI agent Richie busts them. He takes over as the main character because it is his goal – catching the big fish – that tracks the rest of the film. But he is a buffoon and a con man too, and the story immediately flies off in all kinds of directions.
Thematically, American Hustle had tremendous potential. Any time you include the name of a country in the title, you are doing an epic. An epic is a story in which the fate of a nation is based on the actions of a single person or family. Arthur Miller, author of Death of A Salesman, told us that the salesman is the quintessential American job. American Hustle takes that idea a step farther. These salesmen are selling nothing but a fake promise. It's the dark side of the American Dream, where success is all about making money. Like the characters in The Great Gatsby and Mad Men, the main method these people use is to reinvent themselves.
In today's most recent version of the American Dream, you can be whoever you want to be, as long as you can make money from it and as long as you don't get caught. It's a powerful theme and it should ring true with audiences who see their own scams and schemes to get rich quick and think they'll live happily ever after.
But there's a big problem in a story where everything is fake: you can't make the emotion between the characters believable. And when the characters are laughably dumb, even while saying some of the wackiest dialogue in years, it makes the problem even worse.
The verdict for American Hustle? The comedy is often quite funny, but the serious drama doesn't work.